---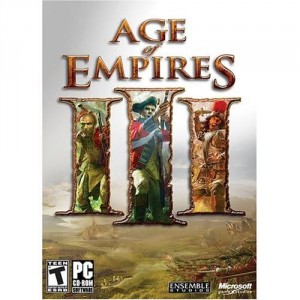 Když v roce 1997 vrcholily v malém vývojářském týmu Ensemble Studios závěrečné práce na Age of Empires, tak jistě nikdo nečekal, že sklidí takový obrovský úspěch. Dlouho na sebe nenechal čekat druhý díl, který se ihned stal progamingovou záležitostí. Nyní se po 8 letech a 16 milionech prodaných kusech Age her pilně pracuje na třetím dílu slavné série, která má opět ukázat, jak má vypadat správná RTS.
Kolonizace Nového světa
Age of Empires III začíná tam, kde druhý díl skončil – okolo roku 1500 – v době objevení a následném kolonizování amerického kontinentu. Konec se časuje na léta páně 1850, tedy těsně před americkou občanskou válkou, nebo chcete-li válkou Jihu proti Severu. Tvůrci se tak chytře vyhnuli moderním zbraním, které se zanedlouho poté začaly používat.
NÁROKY
Procesor 1,4 GHz256 MB Ram
Grafickou kartu s 64 MB a podporou HW T&LWinXP
370 MB volných na disku
DirectX 9c

DOWNLOAD
http://rapidshare.com/files/23193823/Age_of_Empires_III_by_graph1990_for_www.darkwarez.pl.part01.rar
http://rapidshare.com/files/23194243/Age_of_Empires_III_by_graph1990_for_www.darkwarez.pl.part02.rar
http://rapidshare.com/files/23194669/Age_of_Empires_III_by_graph1990_for_www.darkwarez.pl.part03.rar
http://rapidshare.com/files/23196123/Age_of_Empires_III_by_graph1990_for_www.darkwarez.pl.part04.rar
http://rapidshare.com/files/23196662/Age_of_Empires_III_by_graph1990_for_www.darkwarez.pl.part05.rar
http://rapidshare.com/files/23197187/Age_of_Empires_III_by_graph1990_for_www.darkwarez.pl.part06.rar
http://rapidshare.com/files/23197733/Age_of_Empires_III_by_graph1990_for_www.darkwarez.pl.part07.rar
http://rapidshare.com/files/23198272/Age_of_Empires_III_by_graph1990_for_www.darkwarez.pl.part08.rar
http://rapidshare.com/files/23199801/Age_of_Empires_III_by_graph1990_for_www.darkwarez.pl.part09.rar
http://rapidshare.com/files/23200232/Age_of_Empires_III_by_graph1990_for_www.darkwarez.pl.part10.rar
http://rapidshare.com/files/23200952/Age_of_Empires_III_by_graph1990_for_www.darkwarez.pl.part11.rar
http://rapidshare.com/files/23201406/Age_of_Empires_III_by_graph1990_for_www.darkwarez.pl.part12.rar
http://rapidshare.com/files/23201937/Age_of_Empires_III_by_graph1990_for_www.darkwarez.pl.part13.rar
http://rapidshare.com/files/23202379/Age_of_Empires_III_by_graph1990_for_www.darkwarez.pl.part14.rar
http://rapidshare.com/files/23206739/Age_of_Empires_III_by_graph1990_for_www.darkwarez.pl.part15.rar
http://rapidshare.com/files/23208041/Age_of_Empires_III_by_graph1990_for_www.darkwarez.pl.part16.rar
http://rapidshare.com/files/23209371/Age_of_Empires_III_by_graph1990_for_www.darkwarez.pl.part17.rar
http://rapidshare.com/files/23210976/Age_of_Empires_III_by_graph1990_for_www.darkwarez.pl.part18.rar
http://rapidshare.com/files/23212667/Age_of_Empires_III_by_graph1990_for_www.darkwarez.pl.part19.rar
http://rapidshare.com/files/23214170/Age_of_Empires_III_by_graph1990_for_www.darkwarez.pl.part20.rar
HESLO : www.darkwarez.pl